Most professional digital marketing firms in Canada and the US will coordinate web design, SEO, and social media marketing like never before. According to Tom Mills, chief CEO and Web Developer of "Halifax Web Design" and "Cape Breton Web Design", local marketing companies in the Atlantic Canada, are increasingly using an integration of digital marketing services like SEO and Social Media Management to complement their web development portfolios.
Through the use of web optimization, responsive web design, internet marketing, SEO Services, social media marketing, Press Release Writing, Article Writing, brand building, and other web development services, GoSmartMedia is the number one local SEO company in Canada with a client list that would make some of the major digital marketing players in the US jealous.
How do they do it? Well, they keep it simple by not just relying on new customers as the life blood of their company, but keep current SEO and Web Design customers happy by continuing to provide monthly subscription packages at affordable prices.
This is the norm now on the web and will continue to be a large part of the company's revenue in 2017 – SEO Subscription Packages!
WordPress Web Design
WordPress web design platform will continue to power the web by over 35 percent  in 2017. WordPress is the best solutions for companies looking to build a site that is responsive for mobile users as well as being optimized for the search engines.
There are so many WordPress plugins now available for security, SEO, and social media sharing that is has now become a no brainer for companies wanting to build a great looking website to use the WordPress CMS platform in order to sell their services and products online. WordPress is one of the most robust content management systems on the web that are user friendly and very professional to use.

Digital marketing companies like "Go Smart Media" strive to be your go-to WordPress Web Design Company in 2017 that is motivated to creating eye popping websites that are optimized for major search engines like Google and also provide CSS styling sheets that uses the best colors, fonts, placement of graphics, and utilizes the header and footer in new and exciting ways.
They will continue to optimize videos and other elements of a website like images and content in order to provide the best promotional, SEO, and Digital Marketing Services in Atlantic Canada for their clients.
Content Marketing
Content Marketing will still be the most important thing in digital marketing because it is used to attract, communicate, and engage targeted visitors to not only a company's website by social media channels as well. Content writing will continue with well written articles that speak about a company's business, giving tips and information about their products and services so that customers and visitors will continue to come back time and time again.
Digital marketing agencies like "Go Smart Media" will employee larger content creation methods in an attempt to work with a larger number of digital marketing and SEO customers in Atlantic Canada as well as right across Canada.
This trend of content creation (articles, video testimonials, press releases, social media posts, etc) will continue as companies like Go Smart Media become specialized in providing their customers with more website traffic, leads, phone calls, emails, and profits!
Marketing And Analytics

Marketing and analytics go hand in hand. Marketing is really about the numbers. Our clients really want to know how many people visited their websites, where their visitors are from, how many use mobile browsers to to surf the pages on their site, and if they visited their social media channels.
This tells a lot to a business. It tells them how to improve the pages of their website and which products and services potential customers are interested in. They many want to run contests on social media channels in order to build their customer base.
There are lots of marketing methods nowadays for digital marketing companies to use and tie in with analytics. Social media metrics can be measured with Facebook Insights and Hootsuite Analytics as well.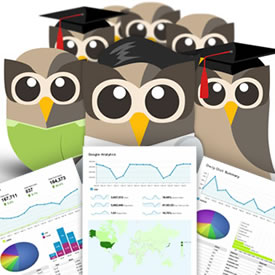 By providing a variety of analytical methods like Google analytics, Hootsuite Analytics, and Facebook Insights, a company specializing in SEO and digital marketing can show proof to their customer in month end reports that show improved traffic and leads for their websites and social media channels.
A digital marketing SEO company that can continue to provide this type of analytically reporting and walk the walk, will continue to work with current customers as well as attracting new ones. Concrete data that is verified can be used to make critical business decisions for companies in Canada, no matter when niche they are in.
Top SEO Methods are what most businesses in Canada are looking for. They are looking for digital web service companies who can not only provide them with a plan but do the work and then provide metrics that show increased numbers for the brand, month after month.
Digital Marketing In Atlantic Canada
Digital marketing in Atlantic Canada is starting to catch up with the rest of the world and local businesses are starting to realize that to compete with other companies in the same market, they need to hire a professional SEO company who knows how to optimize a website for major search engines like Google, provide experience web developments strategies, and share content through top social media channels. All these digital marketing services are a must to compete online in today's economy.
Digital Marketing Services for Corporate business

Digital Marketing Services for Travel & Tourism

Digital Marketing Services for Real Estate

Digital Marketing Services for Music Industry

Digital Marketing Services for Acupuncture

Digital Marketing Services for Chiropractors

Digital Marketing Services for Laser Hair Removal

Digital Marketing Services for Wellness Clinics

Digital Marketing Services for Massage Therapists

Digital Marketing Services for Retail Sales

Digital Marketing Services for eCommerce Web Stores

Digital Marketing Services for Auto Sales

Digital Marketing Services for e-Juice Vape Shops

Digital Marketing Services for Photographers

Digital Marketing Services for Construction Companies

Digital Marketing Services for Cleaning Businesses

Digital Marketing Services for Leasing Consultants

Digital Marketing Services for Private Enterprise

Digital Marketing Services for Law Firms
FREE SEO Analysis
Get a Free SEO analysis that will audit your website and give you an idea of which keywords your need to concentrate on when optimizing your site. GoSmartMedia SEO Services will analyze your website, put together an SEO subscription that will enable you to compete for certain keywords and rock the top three positions in Google within your market.
GoSmartMedia.com will send you back the SEO Keyword Analysis (Website Audit) to your email address that shows your current Google Search Rank Results  – FREE! We will then call or email you back to chat about which SEO Subscription Plan is just right for your company.

Stop giving away sales to your competition. Hire a local SEO Company that has experience in digital marketing, web design, and social media marketing and management. Hire an internet marketing company that will get you more website traffic, leads, and customers.
Partner With GO SMART MEDIA
Local clients in Atlantic Canada in Halifax, Moncton, Charlottetown, and St Johns will reap of the benefits of having one of the most experienced marketing companies present out our local area.
Based in Nova Scotia, GoSmartMedia will again partner with large and small businesses in order to provide SEO Services and Social Media Marketing that will not only boost their clients websites in the search engines, but will build a loyal following on all major social media channels as well.